Product Description
Ethylenediaminetetraacetic acid (EDTA ACID)
Name: Ethylenediaminetetraacetic acid (EDTA ACID)
English name: EDTA (Ethylenediaminetetraacetic acid)
CAS No.: 60-00-4
Molecular formula: C10H16N2O8
Molecular weight: M=292.24
Product number: JK001
Properties: white crystalline powder, melting point 240 ° C (decomposition). Do not dissolve in cold water, alcohol and general organic solvents, slightly soluble in hot water, soluble in sodium hydroxide, sodium carbonate and ammonia.
Ethylenediaminetetraacetic acid
use
1. EDTA is an important complexing agent. EDTA is widely used as a bleaching fixer for color photographic materials processing, dyeing auxiliaries, fiber processing auxiliaries, cosmetic additives, blood anticoagulants, detergents, stabilizers, synthetic rubber polymerization initiators, EDTA is a chelate. A representative substance of the mixture. It can form stable water-soluble complexes with alkali metals, rare earth elements and transition metals. In addition to the sodium salt, there are various salts such as ammonium salts and iron, magnesium, calcium, copper, manganese, zinc, cobalt, and aluminum, and these salts have different uses. In addition, EDTA can also be used to detoxify harmful radioactive metals from the human body. It is also a treatment agent for water. EDTA is also an important indicator, but it is used to titrate metal nickel, copper, etc., when used together with ammonia, in order to function as an indicator.
2. EDTA is an excellent calcium and magnesium ion chelating agent used as a chelating agent for water for emulsion polymerization to remove metal ions such as Ca2+, Mg2+, Fe2+ and Fe3+. It is also used as a complexing agent for anaerobic adhesives, that is, treating methacrylic acid diester with EDTA, removing transition metal ions, eliminating the effect of promoting decomposition of peroxide, and improving the stability of anaerobic adhesive is very good. The EDTA sodium salt chelate metal ions to improve the modification of acrylic acid. The storage stability of the solid structural adhesive (SGA) is -3 x 10-4 to 6.0 x 10-4. The dosage is 1.5%, the storage stability of 50~C is more than 360h (4d storage at 50°C, equivalent to 1 year storage of SGA20~C).
3, commonly used in the softening of boiler water quality. Prevent scaling.
Product Specification: (Q/24SJK01-2009 Quality Standard)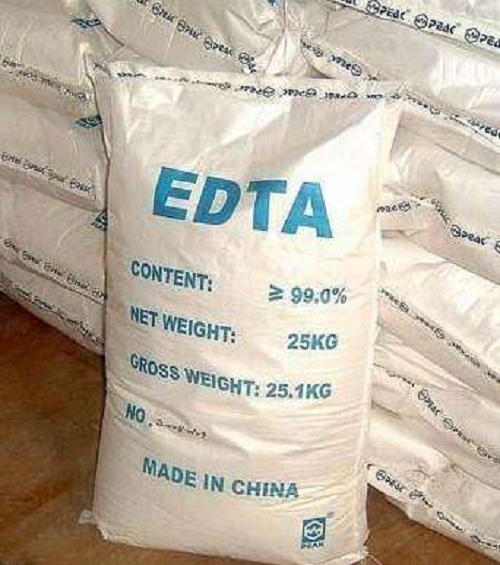 Packing: 25kg/bag or according to customer's requirements.
Storage: Store in a dry and ventilated warehouse, avoid direct sunlight, and lightly stack.