Product Description
Polyaspartic acid (sodium) PASP
CAS No. 181828-06-8, 35608-40-6
Molecular formula: C4H5NO3M(C4H4NO3M)m(C4H4NO3M)nC4H4NO3M2 Relative molecular mass: 1000-5000
1. product performance
PASP is a water-soluble polymer and is a new type of green water treatment agent with phosphorus-free, non-toxic, pollution-free and fully biodegradable properties. It has strong chelating ability to ions, has the dual effects of corrosion inhibition and scale inhibition, and has good scale inhibition effect on scale-forming salts such as calcium carbonate, calcium sulfate, barium sulfate and calcium phosphate, and the scale inhibition rate of calcium carbonate. Up to .... PASP also has a dispersion effect and can effectively prevent corrosion of metal equipment.
PASP can replace phosphorus-containing water treatment agents to avoid eutrophication and secondary pollution of water bodies.
2. technical indicators in line with HG/T3822-2006
| | |
| --- | --- |
| Items | Standard |
| Appearance | Yellow to umber liquid |
| Solid content | 40.0% Min |
| Density (20℃) g/cm3 | 1.20 Min |
| pH(1% water solution) | 9.0-11.0 |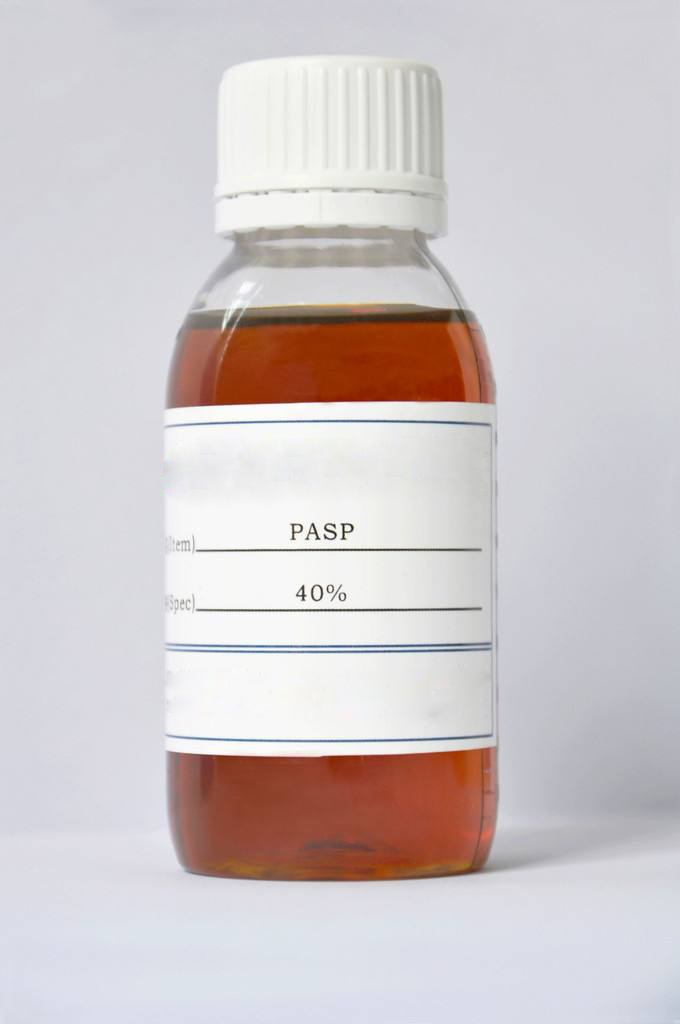 3. the scope of application
As a scale and corrosion inhibitor, PASP is widely used in water treatment fields such as industrial circulating water, boiler water, reverse osmosis water, oil field water and seawater desalination. It is expressed in high hardness, high alkalinity, high pH and high concentration multiple system. Excellent, PASP scale inhibition effect is better than the commonly used phosphine scale inhibitor. PASP and PBTCA have synergistic effects after compounding.
PASP due to the nature of green environmental protection, PASP products can be used as a new type of daily chemicals and a variety of non-toxic, non-polluting special fine chemicals.
PASP can be used as a nutrient absorption enhancer in agriculture to promote the production of vegetables, fruits, flowers and other crops. At the same time, it can improve the efficacy with pesticides.
4. packaging and storage
PASP is packed in plastic drums, 25kg or 250kg per drum, which can also be determined according to user needs. PASP is stored in a cool place indoors with a storage period of ten months.

5. security protection
PASP is alkaline. Pay attention to labor protection during operation. Avoid contact with skin and eyes. Rinse with plenty of water after contact.