Product Description
Polyepoxysuccinic acid (sodium) PESA
Molecular formula: HO(C4H2O5M2)nH Relative molecular mass: 400-1500
CAS No.: 51274-37-4; 109578-44-1
1. performance and use
PESA is a non-phosphorus, non-nitrogen, environmentally friendly water-soluble polymer. PESA has good scale inhibition and dispersion properties for calcium carbonate, calcium sulfate, barium sulfate, barium sulfate, calcium fluoride and silicon scale in water, and has good synergistic effect with phosphonate compounding. PESA has good biodegradability and wide application range, especially suitable for cooling water system under high alkali, high hardness and high pH conditions, which can achieve high concentration multiple operation. PESA has good compatibility with chlorine and has good compatibility with other chemicals.
PESA can be used as a nanometer calcium carbonate dispersant, and can also be used in the processing of paper, paint, ink, paint, and daily chemical industries. The addition of PESA improves the fluidity of the calcium carbonate suspension, improves the surface properties of the calcium carbonate, reduces the surface energy of the particles, improves the affinity with the dispersion medium, and effectively inhibits the agglomeration between the particles, thereby increasing its Disperse the properties so that they are evenly dispersed in the body.
In addition, PESA has also been widely used in the field of textile printing and dyeing. It can be used for dyeing and finishing processes, which can significantly improve the scouring effect. In the processes of desizing, scouring, bleaching and dyeing, it can reduce Ca2+, Mg2+, Cu2+ in water. The effect of metal ions such as Fe2+ on the quality of the product; it has a protective effect on the decomposition of H2O2 and has a protective effect on the fiber; it can significantly improve the whiteness and eliminate the yellow spot phenomenon.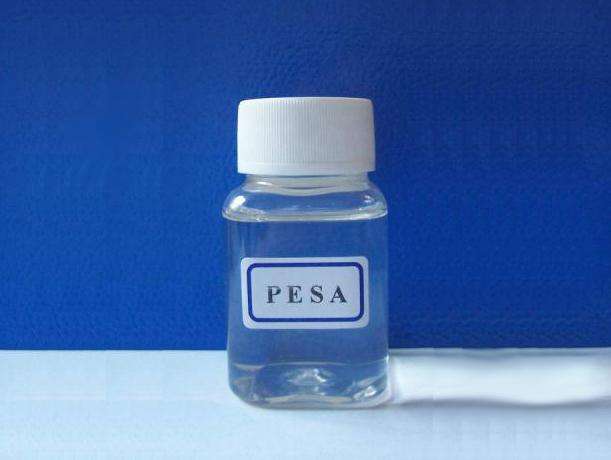 2. technical indicators in line with HG/T3823-2013
3. the applicable areas and methods of use
PESA is suitable for oil field water injection, boiler water treatment, etc.; it is suitable for circulating cooling water system in steel, petrochemical, electric power, medicine and other industries; especially suitable for boiler water treatment of high alkalinity, high hardness, high pH and high concentration multiple system. , circulating cooling water treatment, seawater desalination, membrane separation and other fields; suitable for the detergent industry.
When PESA is used in the field of water treatment, the addition amount is generally 10-30 mg/L, and when PESA is used as a dispersant, the recommended amount is 0.5 to 3.0%, and the amount can be determined according to the test. Since this product is anionic, it is not suitable for use with cationic chemical additives.
4. packaging and storage
PESA is packed in plastic drums, 25kg or 250kg or 1250kg per drum or according to user needs. The PESA is stored in a cool place in the room and has a storage period of ten months.
5. security protection
PESA is a non-toxic and non-irritating substance. It does not cause harm to animals and plants in the ecological environment. The product is alkaline. Pay attention to labor protection during operation. Avoid contact with skin and eyes as much as possible. Rinse with plenty of water after contact.